Marriage Counselling
Marriage is the foundation for social order and it restrains self-centeredness and promotes the love of another. Marriage is supposed to be an unsaid, unwritten tie between two people, who decide to spend their whole life together and contribute towards strengthening their relationship at all moments during this course.
Marriage is a beautiful relationship which needs utmost care and nurturing. It needs to be handled calmly with great sensitivity. This beautiful relationship needs to be treated sensitively to lead a happy life. It is not only about sharing one's life but also about sharing all the responsibilities, grief, sorrows, joys that come on the way. Marriage leads people towards a more organized environment and provide an everlasting companion, a shoulder to lean on.
How Marriage Counselling could help?
The beautiful relationship shared between a couple named as a marriage needs to be handled with great care, from both sides. It holds no space for self-centeredness. But, in today's stressful environment, even this beautiful relationship suffers through detachment and ignorance due to the anger, restlessness, anxiety, stress, the sadness of the individuals. In all such cases, marriage counselling can act as an asset to save this relationship and maintain the beauty and quality of togetherness.
Marriage counselling assists people to focus on and be clear of what concerns the people. Different approaches are used by the counsellors who, help people understand each other better and make them learn not to get judgemental towards their partner. Marriage counselling is an opportunity to get a better understanding of each other's values, expectations, needs and desires which further help in complementing to each other's weaknesses. It assists people in taking up the right measures, making the right choices and changes at the correct time; before the relevant & irrelevant issues break the couples apart. People are likely to gain an insight into their own feelings and behavior and improve their relationship by developing better ways of living.
How Unhealthy Marriages can Spoil Life & Family
As humans, love, care, and affection are the basic necessities which all people lure for. Love is the basis of any relationship including marriage, which is considered as one of the most important relationship which any person witnesses.
Unhealthy marriages can have an extremely deteriorating impact on any person's life. Unhealthy marriages not only bring the couple into an emotionally traumatic condition but also ruin their life and family. Also, the children whose parents share an unhealthy marriage, tend to lose their confidence, isolate themselves from the rest of the world, and blame themselves for the bad situation of their parent's relationship. Apart from the kids, even adults who witness the unhealthy relationship of a couple, experience pain and discontent. The pain and suffering, which an unhealthy marriage brings to the couple's life and their family is, incomparable to any other loss. Any frequent or aggressive arguments in a marriage, not only disrupts the functioning of the family life but also affects the children in the family adversely. The traumatic effects of unhealthy marriage last an impression on the couple's and their family's emotional life.
Marriage Counselling
• Physical and Mental Abuse Issues
• Compatibility Issues
• Understanding Issues
• Communication Issues
• Emotional Issues
• In-laws Issues
• Infidelity Issues
• Trust Issues
• Behaviour Issues
• Anger and Stress Issue
• Financial Issues
Do you feel?
Cheated and misunderstood
Constant arguments and fights
Reached to communication breakdown
Difficult to trust your partner
Mentally, Emotionally and Physically abused
Compatibility and behavior related issues
In-laws are interfering
Outcomes
More trust and respect in relationship
Better understanding and communication
Conflict management
Self-respect and individuality
Healthy and improved relationship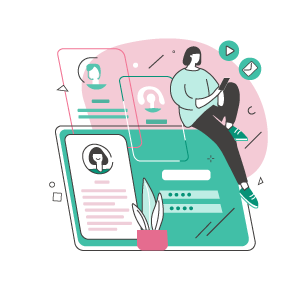 Online Sessions
Follow Up Sessions
Chat with Us
Take the first step to a better you!